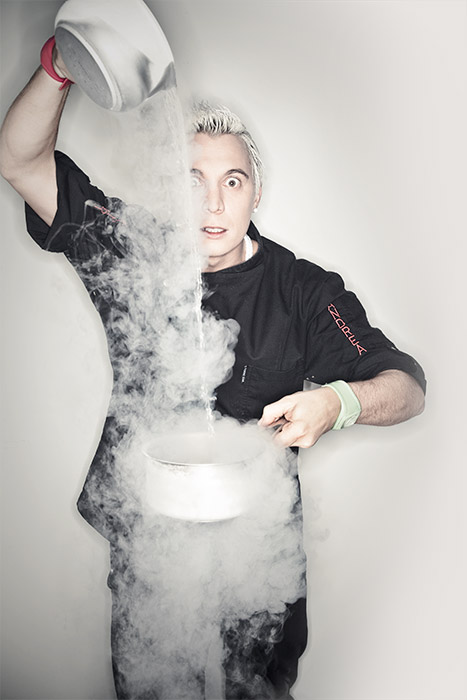 3 years ago, a project, maybe a madness. Create a restaurant with only one table, create an experience, sew a structure around my personality...Officina Cucina is born from 1 to 10 people, only after booking, no classic menu, 10 courses in a succession of techniques and flavors, only driven degustation menu. My self-centeredness brings me to innovations, I try to do something different, unique, an ambitious project, complicated, but awfully stimulating: a fusion of work life and privat life, kept up in my mind. The result: new young italian energy!! As a child, immediately a great passion for cooking; my parents, unique growers of my journey, to which I have to give my greatest thank for the goal I've achieved.
The San Pellegrino hotel school does its duty, then Mainardi flies to big chefs, big people, big men: Fabio Sessini, Paolo Vai, Corrado Fasolato, Paolo Frosio, Andrea Berton, Gualtiero Marchesi... Feeling that the future is only in your hands, know that you can do something important for yourself, your family, for people that have launched you, for people who loves you, for people who respects you ...
FOR MY DAUGHTER, Michelle, extraordinarily passionate for her dad, daddy big wolf.
March 19, 2010: Officina Cucina is restored, new structure, 200 labels of wine, ready to turn. At the helm that blond, Andrea Mainardi, aged 27, a very personal cuisine born from the evolution of direct contact with the diner: when asked what kind of kitchen is your... the answer is... my kitchen is a great casino... ahahahah
In the sense that I can not stand the phrase "revisited tradition"... I mean: I do not want a kitchen made of curiosity and nothing else, the taste is affordable for all palates, for the rest I escape the classicism on the cookings, the extreme presentations (the flying shrimp, or the shell of the snail eaten)
The dishes, the ideas, the new techniques arise from the clash of thinker neurons in the most remote sites of my head... everything has a soul, if you seize her energy, her feelings, her perfume, also a simple leaf of basil can become the gladiator, indomitable and protagonist
Passion for didò, where with my strawberry we bring out succulent and brightly colored dishes; I love the colors and my dress feels the effects. Two watches that balance the two personalities of "Maina", and the new project Officina Cucina New York, now set for February 2012
Andrea Mainardi, Officina Cucina, a restaurant with only one table.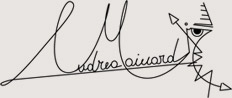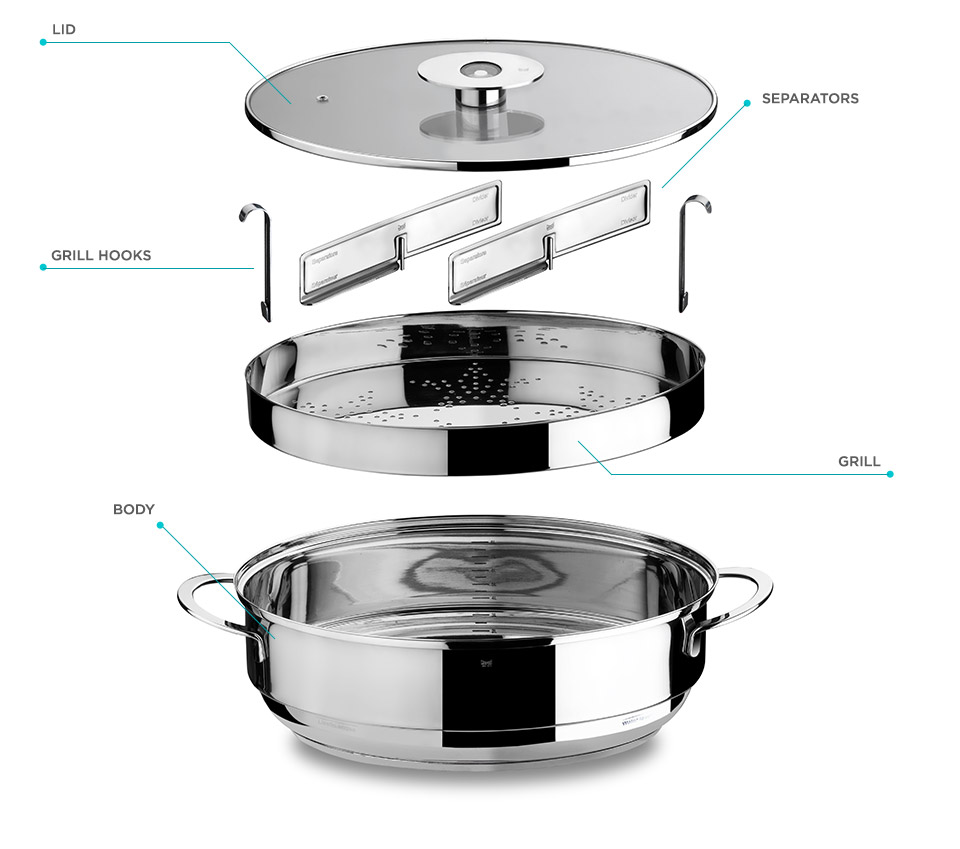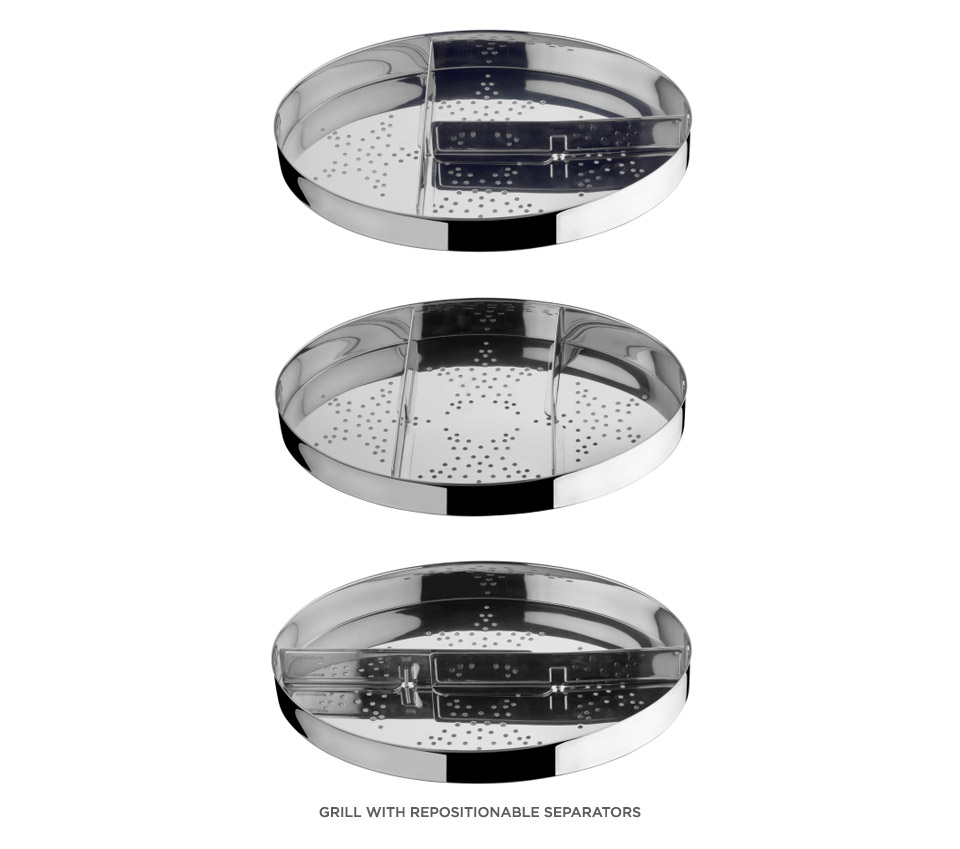 Art. 1563

Oval steamer with trasparent lid, grill, separators and handles

cm 40x28x16

in 18/10 Stainless Steel



We are very pleased to introduce the new steam cooking system, the result of the collaboration with a prominent chef. With our steamer you will be able to reproduce specific cooking techniques that the best professional chefs in the world can only achieve through the use of professional equipment specifically made for the catering industry. You will impress your guests at home by bringing the steamer directly to the table and leaving aromas, flavours and sauces intact, so they can "speak for themselves."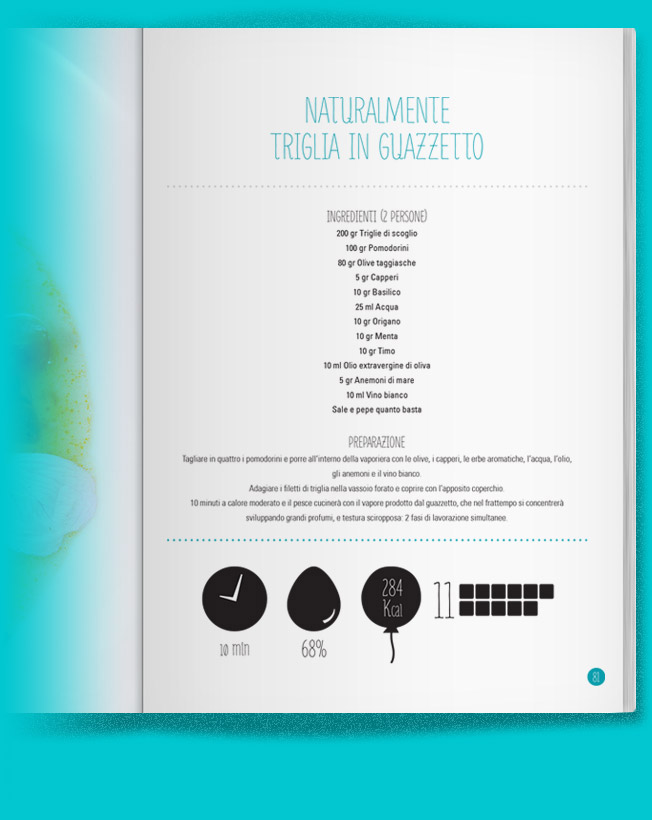 The package contains a handy book of exclusive recipes by our Chef Andrea Mainardi, who shares his instructions to execute different cooking techniques. With our steamer you can simply replicate the techniques professional chefs achieve in their kitchens using sophisticated machinery.
Each recipe also shows the amount of calories, the Zone diet blocks, the percentage of fats and relative cooking times.